Soothe Muscle Tension and Pain with Meridian Herbal Massage
First Trial Promo Price: $89.88
Usual: 60mins | $168 ($181.44wGST)
Meridian Herbal Massage (经络草药按摩) is a form of massage therapy based on Traditional Chinese Medicine (TCM) concepts. Adapted from the guasha technique, meridian massage combines TCM meridian energy concepts and massage therapy to massage key meridian points along the body. Herbal oils is also added to enhance the benefits of the meridian massage.
Herbal Oil Properties
Syoujin uses the finest ingredients made from the pure extract of herbal plants. Herbal Oil provides immediate relief for pain, swelling, and bloated ness to expel dampness, wind from the body while improving qi and blood circulation on the applied areas. Some of the properties of the herbal plant extracts include:
Angelica Root: Relieves heartburn, flatulence, appetite loss, arthritis, insomnia
Ginseng: Reduce inflammation, improve brain function, boost immune system
Holly: Functions as a heart stimulant, treat cough, fever, digestive problems, heart disease
Camphor: Alleviates pain and inflammation, possess strong disinfectant properties, improve digestion, treats nervous disorders, boost lung health
Mint: Kills germs, stop itching, reduce vomiting, decrease muscle spasms, detoxify body
Relieve Headaches and Migraine
Relief of Muscular-Skeletal Disorders (Muscle Cramps, Sciatica, Back Pain)
How Meridian Herbal Massage Works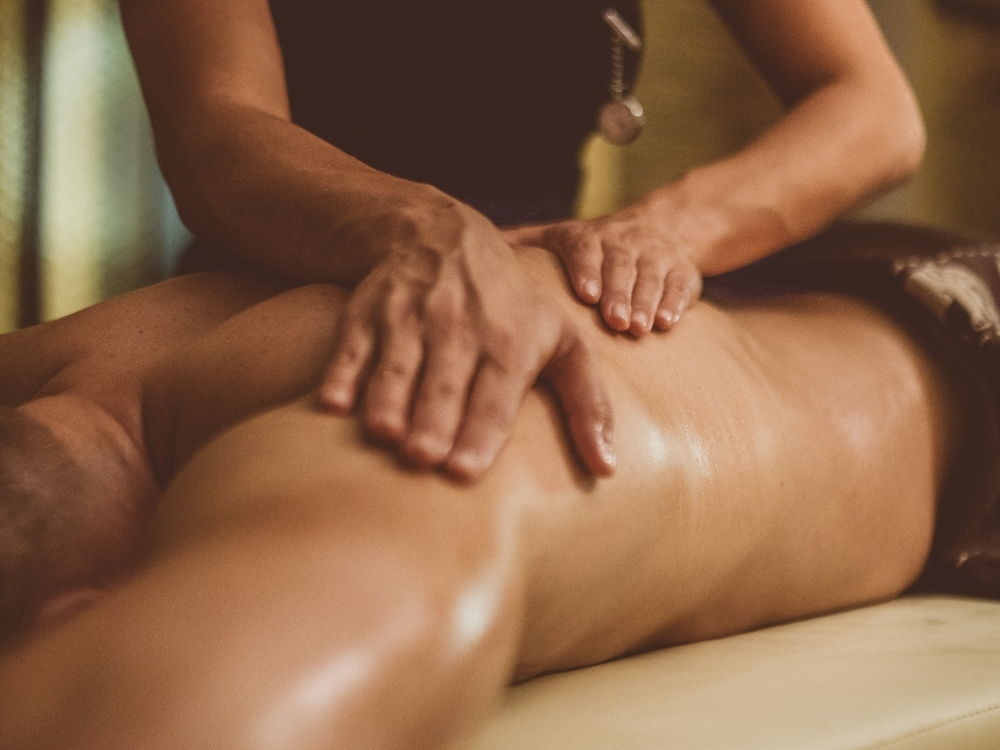 The primary goal of Meridian Herbal Massage is to boost general wellbeing and hasten recovery from sustained injuries. This is done via stimulating the meridian energy lines of the body. Meridian energy lines carry qi throughout the body, and are connected to all major organs in the body. Any obstruction or imbalances in qi energy causes pain or health issues to manifest, ranging from shoulder pain, headaches and muscular skeletal disorders.
To correct the imbalances, our highly trained therapist will use a variety of massage techniques to stimulate the acupressure points along the meridian lines. This stimulates qi to flow and release tension, causing the body to relax. Blood and nutrients also flow more smoothly to injury sites which speeds up healing.
Treatment Process
Before the massage, our therapist will conduct a body analysis to determine the treatment area to focus on.
Once the treatment areas are identified, custom blended herbal oils will be applied to the body and massaged in for better absorption.
Our therapist will use different massage techniques such as kneading, tapping, pinching, pushing, stretching and cupping motions to trigger specific acupressure points.
Medical Contra-Indications
If you have the following medical conditions, you refrain from this treatment. Seek your doctor's advice before proceeding.
Cold
Flu
Fever
Cold Sores
Bacterial Infections
Fungal Infections
Abnormal Lumps or Swelling
Asthma
Skin conditions such as Eczema, Psoriasis, Acne
Pregnant
Book Meridian Herbal Massage
Get your Meridian Herbal Massage @ $89.88 Nett for 60 Mins (U.P. $181.44 wGST)
Terms & Conditions 
The first-trial promotion is limited to one-time redemption per new customer or customers who have not visited in the past 12 months, aged 18 and above. 

Clients are required to display the promotional artwork/website link to counter staff upon redemption.

The first-trial promotion is only applicable to local residents including work pass and long term pass holders.

Original identity cards are to be presented upon client registration.